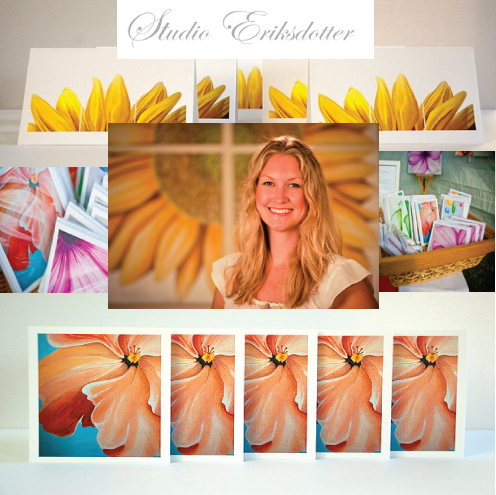 I am so pleased to announce the
Studio Eriksdotter
giveaway! I am giving away a set of Erica's amazingly gorgeous stationery to one lucky follower! But first, a bit about the lovely Erica: 
I was born and raised in Sweden and sold my first painting at the age of 10. I remember getting my easel at seven and finishing watercolor landscapes while on the phone with my girlfriends in my teens. Painting has always been a part of my life. There was never a start or a beginning; it has just always been there. In 2000, at the age of 20, I moved to the U.S. to continue my studies in communications and public relations at George Mason University, Fairfax, Virginia. As I evolved as an artist, I started working predominantly in acrylics and have stayed with it. I also do detailed watercolors for
Live.Like.You.com
, an interior design web site.
I hope to inspire and make people and homes happy with my art. I love art festivals and plan to do more and more each year across the country and internationally. I'd love to paint to the views of the Eiffel tower or lavender fields in France, the Amalfi coast in Italy, and the rolling hills of England and Ireland. As a child, I always brought my watercolors with me when we traveled in Europe and I'd love to return to paint for customers or for a gallery or art show. 
 To win, simply follow me via Google Friend Connect and drop by Erica's site and let me know what your favorite item is! Winner will be chosen at random on September 15, open to all! Good luck, my lovelies!